J.A. Long Delivers Unique Custom
Homes with Superior Value
Since 1972, J.A. Long Design Builders has designed and constructed hundreds of custom homes in virtually all areas of Jacksonville and St. Augustine, including Clay County, Duval County, Nassau County and St. Johns County.
J.A. Long has attracted widely varied projects over the years — from local real estate professionals who have an in-depth understanding of the Jacksonville real estate market to first-time home buyers. Concurrently, Several characteristics remain the same among our clients, whether they are building a 2,000-square-foot home or a large luxury estate, they demand quality, great design, functionality, value pricing and correct building science. Our clients are looking for more than a production. Just a building including planning in difficult Coastal Hurricane Zones, and auger-cast concrete pilings in unstable ground locations.
Offering solutions and innovative ideas.
Strong relationships are the foundation of each J.A. Long custom home.
We understand our clients. We're committed to exceeding expectations and building value by following the principles that have made us successful over the last five decades:
J.A. Long believes that a custom home should not be built without first building a strong, long-lasting relationship with our client.
We live, work and play in the Jacksonville community. This is our home and we are your neighbors. J.A. Long understands that every home we build reflects upon our family. That's why we are committed to using the finest materials and building techniques so that your home will stand the test of time.
When you choose J.A. Long Design Builders, you have selected a home builder who will listen to your needs and vision. Whether you choose a J.A. Long plan from our existing portfolio, modify an existing J.A. Long plan, use an architect, or work with us on your own design, you can be sure you are working with a home builder that can turn your vision into an efficient, functional and stylishly designed home.
The J.A. Long team has the capability to take a concept or idea and make it a reality and work within your budget. We are problem solvers.
When you meet with J.A. Long, you are discussing the design possibilities and costs with a true home builder that can work with your vision and suggest home design solutions. This will ensure that your home meets your needs and your budget.
As a residential home builder that has built hundreds of custom homes over the last five decades (with many repeat clients), we understand that your home building experience should be exciting and rewarding. With that in mind, J.A. Long Custom Builders has developed a design-build process that's client-focused and stress-reducing.
Our longevity and experience has allowed us to identify and develop relationships with the best craftsman and tradesman in northeast Florida. These long standing relationships allow us to provide our clients with outstanding quality at the best price. We are absolutely committed to providing value.
J.A. Long's design-build process facilitates timely and clear communication throughout the home building process. We are committed to open communication. The J.A. Long team is always accessible from the planning and design phase to the construction phase – and long after your home is built. Our highly skilled team works together to bring out the best of our combined talents, experiences and knowledge.
Offering Solutions and Innovative Ideas
With J.A. Long, the design possibilities are endless. What our clients love the most is our ability to solve problems. Using our experience and expertise, J.A. Long will propose design solutions that work for your family. That's how J.A. Long adds value. Smart design, innovative ideas and establishing new standards that exceed your expectations – that's why our clients choose J.A. Long Design Builders time and time again.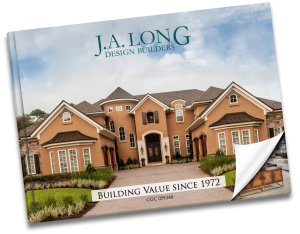 Download Our FREE Brochure