"The process of building our home with the J.A. Long team was extremely easy and customized. The team worked with us on specific details that we wanted in our home, and provided guidance along the way. Their team was extremely knowledgeable on building processes, materials, and set realistic expectations on the timeline. We absolutely love the final product, and will be in our home for many years to come!"
-Lindsey Ruth, Homeowner 
"Thank you for a wonderful home building experience.  Truly one of the Best Houses we have had Built.  P.S. Hopefully the last."
Guy and Laura Ratzlaff
If you're looking for a "one–of–a–kind" home with a residential custom builder intent on making you happy, then J.A. Long, Inc. is the builder for you. Listen to what clients have to say about J.A. Long time and time again.
"JA Long was my home builder and they were committed to building a quality home. I was able to build a custom home for a very competitive price per square foot. Having grown up with a father who was a home builder, I felt very comfortable with JA Long's reputation & quality."
Gene Smith
General Manager & Senior Vice President, Player Personnel
Jacksonville Jaguars
"I've been involved in Real Estate for over 10 years and have walked through literally thousands of homes, so I had a good idea of what I wanted in my own custom home. I expressed these ideas to J.A. Long and they helped me streamline my thoughts to create my own dream home. When I asked for 10–foot tall sliding glass doors to take advantage of my view, they found them for me. Their input was a valuable asset in making sure I ended up with a unique one–of–a–kind home –– and a home that others would want to live in if I ever have to sell it in the future. That's a fine line to walk and J.A. Long walked that line wonderfully. I consider them very professional and, now, personal friends."
Keith C. Jones
Sales Manager
East West Realty – Eagle Landing
"Sam and I want to thank you. You have gone over and above in working with us. We're thankful that we chose J.A. Long Builders to build this wonderful home that has been such a blessing to us and our friends and family!
May God bless you all."
Lois and Sam Crissinger
"I just wanted to drop you a note to let you know what a great job one of your subcontractors did for me. I had an issue with my front doors and called your subcontacctor Manning Building Supply. George called me back right away and was here the same day! He fixed the doors and even gave me a referral for a painter to refinish the doors. Not only that, he also called the painter for me and the painter will be coming by tomorrow. All this with out any charge! I thought that was way above and beyond great customer service and thought you should know."
Cyndi Kroner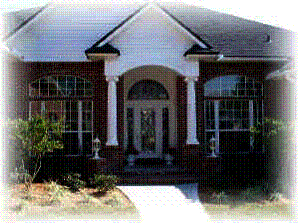 "It was apparent after our first few meetings that everyone in your organization was truly interested in making the process as painless and uncomplicated as possible – considering we were trying to accomplish this from 1,500 miles away. We were pleased when we heard of John and Randy's frequent visits to the site throughout the building process. It truly showed a commitment to get it right. We have built many homes, all with different builders, and not once have we encountered someone as professional, knowledgeable and conscientious as J.A. Long was throughout the process."
Priscilla and Wally Franczyk
"We used John to build our first home in 1993 and our newer, bigger home in 1998. The experience building both homes was enjoyable because of John's willingness to build what we wanted, not what he thought we should have. He listens. We love his creativity and his ability to customize floor plans to our visions. Being a true builder he saved us a lot of time during the conceptual process in saying whether what we wanted could be technically done. In addition, John uses quality subcontractors and construction crews we felt we could trust."
Aaron and Jeni Millikin
Husband and wife team of Eagle Harbor General Mgr & Real Estate Sales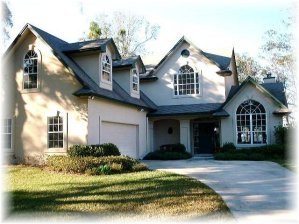 "J.A. Long has a reputation second to none among Clay County home builders. Every home that John builds is special – ours was a difficult custom design that turned out just as we hoped it would. Building a home with John and Linda was a wonderful adventure. Five years later, I still love the house. It has been the best investment that we ever made."
Peggy and Jim White
ECCU Vice President and Forestry Software Engineer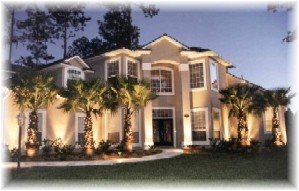 "Moving from New York we had concerns about building long–distance. But after meeting with John and his staff our hesitation quickly disappeared. They're all fabulous! We absolutely love our home and we take every opportunity we can to show it off. Thank you John, Linda, Jimmy, Deana and the rest of the gang! You guys made our dream house a reality."
Susan and Scott Binder
Owners of Sunrise Software, Inc.
"I have been fortunate to have built two homes over the last 12 years with JA Long Design Builders. When I built my first home in 1993, my family had never built a home and the building experience exceeded our expectations. With the Long's help, we built a custom home that truly reflected our personalities. In 2000, I was ready to build my second home and I chose JA Long again. I was pleasantly surprised to find that many of the subcontractors who had worked on my first home were still working with the Longs.
One of the factors that make the JA Long experience unique is John. He has the ability to 'three dimensionalize' better than anyone else I have ever worked with. If you give JA Long an idea or thought they can work it out into a feasible, and most importantly, a buildable option. Having worked with JA Long to build two of my own homes and after working as a realtor for many years with JA Long to help other families build their dream homes, I feel very qualified to say that JA Long builds truly beautiful custom homes."
Karen Valachovic
Broker Associate
East West Realty – Rolling Hills at Lake Asbury
"We've known John and Linda (Long) for a number of years, and I knew him to be a premier builder with outstanding design skills. The key for us is that John custom designs a house. No two homes are exactly the same. He welcomes modifications to plans (unlike most builders who are totally set in their ways) and was totally intent on making us happy. During construction, when communication is at a premium, they are always available. All of John's crew and subcontractors were highly professional and trustworthy."
John and Deborah Fanning
Owners of Fanning Mortgage Company
"Kristen and I were moving from New Hampshire to Jacksonville and needed a new home quickly. So prior to the move, Kristen visited Jacksonville and viewed 30 plus homes in 10 neighborhoods over a one week period. Of the 30 homes Kristen viewed, she selected the five best homes for us to visit together. Two of the five homes were J.A. Long homes. When we pulled into our soon-to-be home, there was a man posting a sign in the yard. It was John Long himself checking on the home's progress. After introducing himself, John proceeded to give us a personal tour of the house which was 75% complete at the time. During the tour he described his final vision for the house. We knew immediately that this was the home for us and signed the contract later that day.
Over the next two months, Kristen and Linda Long worked diligently via e-mail and phone to get the final touches just right. Linda Long and the J.A. Long staff helped us streamline our ideas to ensure that each finish fit our personal style. We feel very blessed to have found such a beautiful new home that fits our personal style in such a short timeframe. Thanks to everyone at J.A. Long! "
James J. Hughes
Financial Advisor, UBS Financial Services
"I just wanted to let you know how excited Leigh and I are about our new home. You have an outstanding team working for you. They all made our first-time home building process an enjoyable one with little or no stress. We also appreciate how quickly everyone always got back to us in regards to any questions or concerns that I had. I was also impressed by the workmanship and customer service that your subcontractors also provided. Thank you again!."
Valerie Thompson, NCIS
"My thanks to John, Linda and Randy Long for building my new home at Eagle Landing. J.A. Long did a wonderful job and I am enjoying my Marbella floor plan. Building a home can be a stressful and odious experience, especially for out of town clients like us, but the company made it a comfortable experience for my family and me. Their staff provided excellent customer service and patience and I appreciated being kept informed on all elements of the building process."
"J. A. Long exceeded my expectations as a custom builder. Its attention to details, quality of work, willingness to modify plans to my requirements and offering cost effective recommendations were greatly appreciated. I really enjoyed the experience, which can be compared to the golden days of building a home with family and friends. Please extend my appreciation to Brenda, Troy, Kirk, Jessica, Deana and other members of your staff."
Isodor Affat
Orange Park, Florida
"First of all, J. A. Long Design Builders is a wonderful company and they provide excellent service. Any questions we had were quickly addressed. It was refreshing to discuss the actual building and design of our home with Company executives (John, Linda & Randy). We were very impressed with their willingness to use any design ideas that we had as long as those ideas were structurally feasible.
J.A. Long Design Builders is head and shoulders above any builder that we have ever dealt with thus far and this is our third house.In the event we decide to build again, you can be sure that we will contact J. A. Long Design Builders to handle construction.
My family and I would like to personally thank J. A. Long Design Builders for their professionalism and high quality craftsmanship."
Sgt. Thomas K. Waters
Jacksonville Sheriffs Office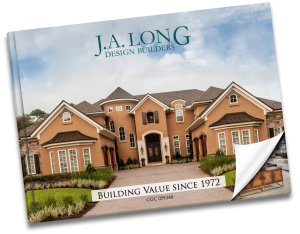 Download Our FREE Brochure