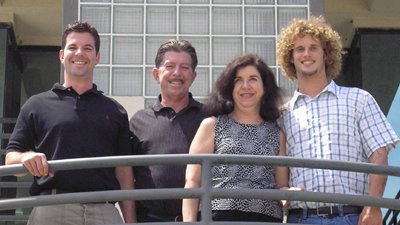 Chief operating officer Randy J. Long, founder John A. Long, office manager Linda C. Long, and cad designer Ryan M. Long.
J.A. Long, Inc. has built a stellar reputation as a master builder for some of northeast Florida's best residential custom homes.
Founded by John A. Long in 1972, J.A. Long is a family-owned company that is driven by its commitment to quality, personalized service and creating some of the most beautiful homes in North Florida.
By focusing on delivering a quality product, the firm has built a reputation for real dollar value and solid craftsmanship. These high standards are made possible by the family's personal involvement in every project from the original design work to the daily on-site supervision.
These standards are also backed up by the J.A. Long "Extended Care" policy that goes well beyond the written warranty.
John A. Long
Chief Executive Officer
Since he once served as a naval aviator, it's no wonder that company founder John A. Long would end up living and working in the largest Navy town in the southeast.
Born and raised in eastern Pennsylvania, John attended Muhlenberg College and received a Bachelor of Liberal Arts Degree before joining the U.S. Navy in 1967. After completing Aviation Officer Candidate School, John was a designated naval aviator – piloting A-7 jets until he left the service in 1971.
After he left the service, John initially worked as a stockbroker for Dean Whitter, and then decided to go an entirely different direction. As he searched for his next career, he worked as an installer for a national retailer in the home building industry. It was then that he discovered his passion for home building.
Marrying his wife Linda in 1970, John launched J.A. Long, Inc. in 1972 – building the company's first home in Green Cove Springs. Since that time, John has built an excellent reputation for his creativity in designing some of the most unique and functional custom homes in Jacksonville.
In addition to his business, John has given back to the community in a variety of ways. He has served as a member of the Clay County Board of Adjustment and has been active with the Northeast Florida Homebuilders Association. John and his wife also assist in various outreach projects throughout Clay County, including fundraising for the Clay County Children's Center.
Randy Long
Chief Operating Officer
Randy has been full time with the family business since 2002 and was born and raised in Orange Park. Randy graduated with a Bachelors in Electrical Engineering from the University of Florida and previously worked with Texas Instruments and Intel prior to joining the family business.
Randy's role of Chief Operating Office is to oversee the team while designing and estimating in the preconstruction phase. Randy is a Florida Certified General Contractor (CGC1506392), Florida Certified Home Inspector (HI1673), and NCBDC certified (10-249) by the American Institute of Building Design (AIBD).
In his free time, Randy enjoys spending time outdoors with his wife and two young children.
Linda Long
Chief Financial Officer
Linda can trace her family's roots to the Jacksonville Metropolitan back five generations.
Linda serves on the Clay County Housing Finance Authority and assists in other community services.
Raised in Green Cove Springs, Florida where she graduated from Clay High School, Linda attended the University of Florida, where she received a BA in Math and Masters in Education. Later, she continued her education by adding accounting & business classes.
After College, Linda worked as a Math teacher in Orange Park and Pennsylvania. Then she joined John in the Homebuilding business. Linda's knowledge and business sense has been instrumental to the growth of the family business.
Brenda North
Selections Manager
Born in St. Augustine, Brenda has been a Sunshine State resident all of her life. 
A licensed Florida Real Estate Broker, Brenda has been in the home-building industry for over 20 years specializing in Selections.
Since starting at J.A. Long in 2005 as Selections Manager, Brenda has continued to work closely with our customers to bring their dream homes to life.  Brenda guides homeowners through the Selections process, finalizing all interior and exterior finishes, fixtures, and details, as well as completing and following up on all items for the Architectural Review Committees.
In addition to her own three senior rescue dogs, Brenda is very active in trying to find forever homes for pets that have been abandoned or left behind. While she takes an active role in the lives of her two teenage grandchildren, she most enjoys spending her free time on the beach or vacationing in the Caribbean. 
Maggie Cairns
Field Coordinator
After growing up in Jacksonville, Maggie went on to graduate from Florida State University with a degree in Human Resource Management. 
Maggie started as a receptionist with J.A. Long in 2008, and has continued to learn about the home-building industry and has taken on additional responsibilities throughout her time with us. As our Field Coordinator, Maggie currently coordinates permitting documents, manages pricing for structural items, and assists in researching changes and challenges presented throughout the building process. 
Jimmie Woodruff
Project Manager
Jimmie has been in construction with a specialty in trim carpentry since 1974 and a Project Manager with J.A. Long since 2005.  Before his involvement in construction, Jimmie served as a jet engine mechanic in the United States Navy.
Jimmie enjoys spending his free time camping and fishing with his beautiful wife Brenda, their sons Jason and J.D., and their four grandchildren.
Jimmie is our resident trim expert and a die-hard Alabama fan.
Derrick Cullingford
Project Manager
Born and raised in Jacksonville, Florida, Derrick was in the maintenance industry for 12 years prior to his career in Project Management, which began in 2003.
Derrick has been with J.A. Long since 2011, when he started as a Project Manager guiding the building process from the field.
Currently, Derrick specializes in homeowner relations, working with customers initially to help transform ideas into details for their future homes.  He also works closely on plan and engineering quality control, as well as researching and executing the intricate details that make our homes so unique. In many cases, Derrick is the main point of contact throughout the construction process, involved from concept to completion.
Gary Darnall
Project Manager
Born in Georgia and raised in Kentucky, Gary served as an Expeditionary Airfield Technician in the United States Marine Corps where he served in Desert Storm. 
Gary later became a Chief Building Engineer where he oversaw construction and maintenance of high-rise office buildings for over 10 years in Los Angeles before moving to Florida.
Gary started as a Superintendent in the residential field and was quickly promoted to Construction Manager for a national builder, before joining the J.A. Long team in the custom-home industry. 
In addition to training in Jiu-Jitsu and Commando Krav Maga, Gary enjoys spending time with his family.
Kevin Head
Project Manager
Originally from Central Florida, Kevin grew up in the construction industry then went on to study drafting and design. 
Kevin has been in Jacksonville since 2008 and entered the Project Management Field in 2013.
Kevin enjoys golfing, fishing, and hunting, as well as spending time with his three sons, wonderful wife, and golden retriever, Mollie.