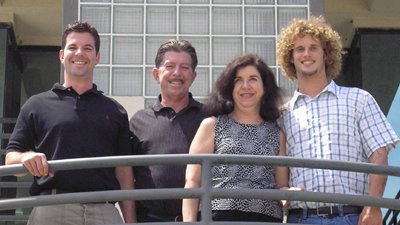 Chief operating officer Randy J. Long, founder John A. Long, office manager Linda C. Long, and cad designer Ryan M. Long.
J.A. Long, Inc. has built a stellar reputation as a master builder for some of northeast Florida's best residential custom homes.
Founded by John A. Long in 1972, J.A. Long is a family-owned company that is driven by its commitment to quality, personalized service and creating some of the most beautiful homes in North Florida.
By focusing on delivering a quality product, the firm has built a reputation for real dollar value and solid craftsmanship. These high standards are made possible by the family's personal involvement in every project from the original design work to the daily on-site supervision.
These standards are also backed up by the J.A. Long "Extended Care" policy that goes well beyond the written warranty.
Randy Long
Randy has been involved in some capacity with the family business since he was a young boy. However, his contributions have grown significantly since the early days. Since taking the reins as Chief Operating Officer in 2002, Randy has helped grow the Company in both size and revenues.
Randy graduated from Orange Park High School and attended the University of Florida, graduating with a Bachelors of Science degree in Electrical Engineering. During his last year of college, Randy also worked as a student recruiter for Texas Instruments at the university.
After college, Randy worked for the Intel Corporation in Portland, Oregon, where his primary responsibility was working with Asian server board manufacturing companies to ensure that their server boards were compatible with Intel Xeon Chip Technology.
Realizing that he was better suited to home building, rather than electrical engineering, Randy returned to the Jacksonville area to rejoin the family business – using the skills and knowledge he acquired at the University of Florida and at Intel to modernize and improve the systems used at J.A. Long.
Randy's lifetime involvement in the homebuilding industry and his systems training are both great assets to the company and have enhanced J.A. Long's overall service capabilities.
John A. Long
Since he once served as a naval aviator, it's no wonder that company founder John A. Long would end up living and working in the largest Navy town in the southeast.
Born and raised in eastern Pennsylvania, John attended Muhlenberg College and received a Bachelor of Liberal Arts Degree before joining the U.S. Navy in 1967. After completing Aviation Officer Candidate School, John was a designated naval aviator – piloting A-7 jets until he left the service in 1971.
After he left the service, John initially worked as a stockbroker for Dean Whitter, and then decided to go an entirely different direction. As he searched for his next career, he worked as an installer for a national retailer in the home building industry. It was then that he discovered his passion for home building.
Marrying his wife Linda in 1970, John launched J.A. Long, Inc. in 1972 – building the company's first home in Green Cove Springs. Since that time, John has built an excellent reputation for his creativity in designing some of the most unique and functional custom homes in Jacksonville.
In addition to his business, John has given back to the community in a variety of ways. He has served as a member of the Clay County Board of Adjustment and has been active with the Northeast Florida Homebuilders Association. John and his wife also assist in various outreach projects throughout Clay County, including fundraising for the Clay County Children's Center.
Linda Long
Linda can trace her family's roots to the Jacksonville Metropolitan back five generations. Her mother, Evelyn Cooper, was a local realtor and very active in the Clay County Political system.
Born Linda Cooper, she was raised in Green Cove Springs, Florida where she graduated from Clay High School. After High School, Linda attended the University of Florida, where she received a Masters in Education in 1971.
After College, Linda worked as a Math teacher at Orange Park High School before joining her husband in the homebuilding business. Linda's creativity, knowledge and keen business sense has been instrumental to the growth of the family business.
Ryan Long
Ryan has also been involved in some capacity with the business since he was five years old and remains the youngest member of the Long family.
Ryan attended and graduated from Orange Park High School where he was a member of the Orange Park Football and Soccer teams. After High School, Ryan attended Jacksonville University and was a member of the Jacksonville University Football team.
Ryan currently handles marketing as well as some plan design, applying his talents in art and design to custom home building. In addition, he also manage and runs all additions and remodels.  As of late, with a high demand of homeowners wanting to update or add to their home, he has completed some stunning projects.